10 Producers to Watch Out for in the Second Part of 2022
The Nigerian music industry is embarrassed with an array of young talents, many of whom are not known to mainstream consumers. At TurnTable Charts, we collect a variety of music data to present an accurate account of music consumption in Nigeria. This wonderful job affords us the opportunity to spot promising artists and producers. The music created by these talents might not be dominating the radio or popping up weekly on TurnTable Charts. However, the quality of their work and the promise they have displayed in the first quarter of 2022, makes them talents to watch out for this year.
As we combed through our large collection of data for the first half of 2022, some upcoming talents caught our attention and we think it's only right that we introduce Nigerians to these talents. So, here we go: this is a list of artists and producers to watch out for in the rest of the year.
The Nigerian music industry has a storied history of producers making smash records and gaining fame at a young age. Young John & Pheelz gained fame as the teenagers who churned out hit records for Olamide Baddo and almost a decade later, young producers are still a force in the game. YoungWillis, P-Prime, and Tempoe are some of the young producers producing for the biggest names in the industry.
There are host of talented producers who are gradually working their way to the top to join the big names and we have selected the best of the crop that the music industry should look out for in 2022. BeatsbyTimmy is the cover of the producer section of this series.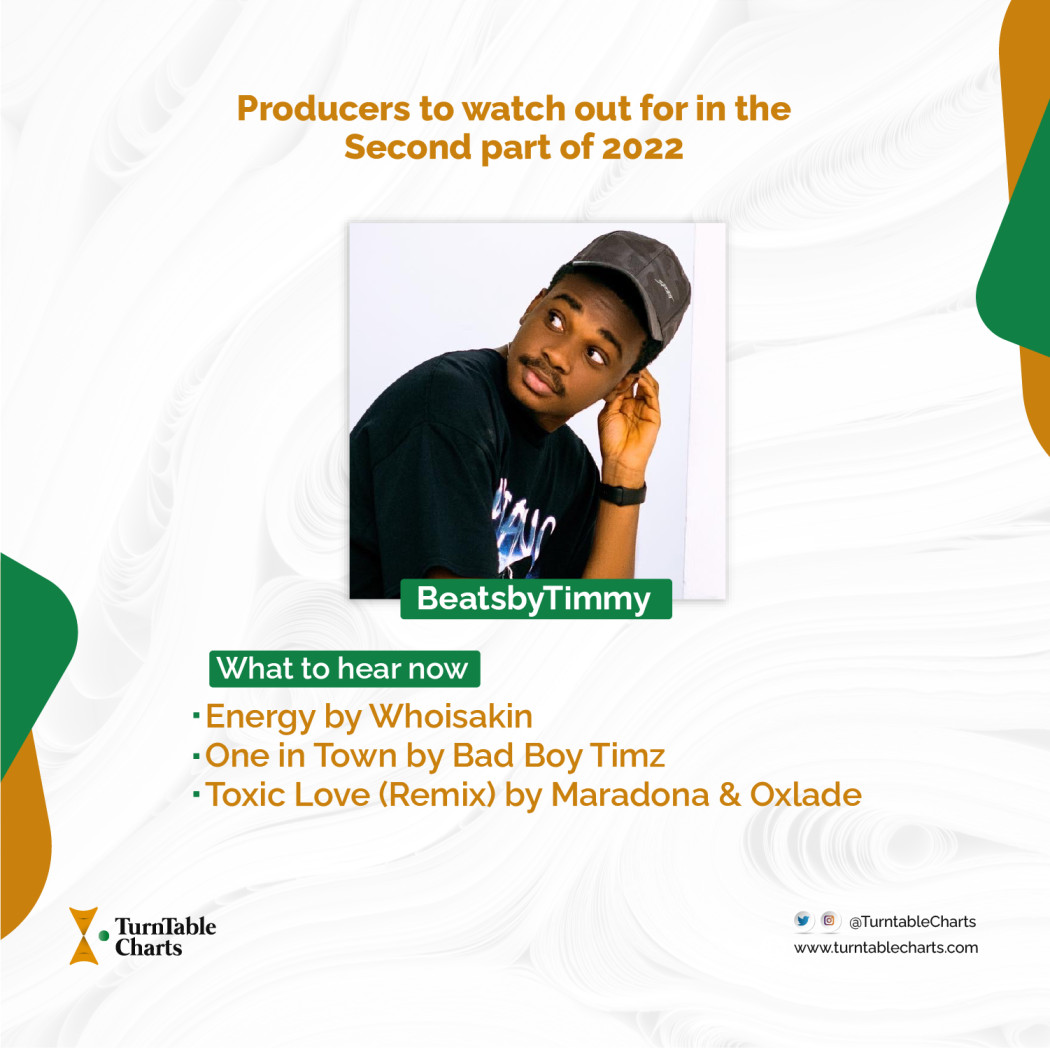 Beats by Timmy is a heavily talented producer with the ability to creatively morph alongside artists with different sound and style. Like many talented producers, his first interaction with music was in church where he played the keyboard. After developing an interest in production, Beats by Timmy began trying out with production tools. In a bid to hone on his production skills, he worked with one of Nigeria's biggest producers for a while before venturing out to make a name for himself.
Beats by Timmy has worked with a variety of artists including Skales, WhoisAkin, Bad Boy Timz, Bella Shmurda, Oxlade, BNXN, Blaqbones amongst many others even before getting his Law degree from Obafemi Awolowo University. He is the producer behind Bad Boy Timz' 2022 catchy single One In Town. He was also tapped by upcoming artist Maradona for Toxic Love remix featuring Oxlade which is a single with lots of promise.
As far as talent and versatility goes, Beats by Timmy is as good as they come. In an industry where upcoming producers aim to be different but still end up imitating the style of trending producers, Beats by Timmy has distinguished himself by choosing to be original. Timmy believes what drives his originality is his desire to achieve a purity of sound irrespective of the genre he is trying to create. His production style is driven by the desire to bring out the best in the artist he is working with and that's what has help him to work with a variety of artists.
He has already worked with some of the hottest acts in the game leaving his signature "Listen to the Big Men" as a stamp of his ability. Beats by Timmy's talent and originality makes him top of the list of talented producers the industry should look out for in 2022 and from the promise he has displayed, he has our vote of confidence.
Other Producers to Watch Out for in the Second Part of 2022