Written by Frair Mac and contributions from Chukwunonso Asiadiachi (The Beat-Oven)
Music as an artform has always been an attempt to quantify the intangible, give meaning to expressions undefined; tell stories about experiences that better encapsulate existence- be it the vibey feeling of a friday night out with friends, the tranquil of a quiet sunday morning, the bustle on a typical work day, the longing for a lover or the pain of unrequited love- music has been one of the outlets through which emotions…. experiences are channeled, commonality tapped and universality achieved. Really good music employs 'language' style and structure that draws from an individual experience but transcends individuality and circumstantial peculiarities to become widely appreciated and enjoyed. The basic structured make up of this 'language' lies in the stylicism, lyricism, surround sound/layering, melody, beat and the overall tempo.
Here in lies the crux of our discussion today. In recent years and even ever since the dawn of music commercialization and mass media consumption, the argument that the soundtracks to our lives, the biggest songs or the yearly hits have gotten slower or faster has always been made. No matter what side of the argument one is on (or date of birth) you get to appreciate where both sides are coming from (practical relativity is some crazy stuff). Warped perception, listening bias, distorted frame of reference, myth or is there something to it?
Before this paraidolic (myself, yours truly) delves into the nitty gritty of it all, some background first- Its easy to get drawn into this barstool type of discussion and get giddy from all the nostalgia, anecdotes would dredge up. Its important however, to define and understand some basic music concepts for a more productive dialogue.
What does the tempo of a song mean? What does it mean objectively when we say a song is fast tempo or up tempo? At what delineating point do we say this song is a slow song? Normally paced song? Or fast song?
SPEED DEMONS
Tempo basically is the speed or pace at which a given musical piece is played/performed/delivered. Tempo in older classical music was used to refer to the time of completion of a musical piece (tempo; italian for time). In more modern times tempo has been measured on a beats per minute basis (bpm) using metronomes or music sequencers.
How music is paced is of great importance not just in classical music but even in more contemporary forms of music. Musical pieces could range in terms of tempo from Very very slow slongs (larghissimo) 24bpm; to very very fast songs (prestissimo) 200bpm and over. We know that music objectively transitions from slow paced through normal pace(walking pace) and then fast pace right around 'andante' through to 'allegro' (76bpm-156bpm), above 120bpm is generally considered fast.
The fastest tempo song ever recorded which holds the guinness world record is 'Thousands' by EDM artiste moby released in 1993 with a tempo peaking at 1,015bpm. For perspective on this, Eminem's "Rap God" is 148bpm, Bruno Mars' "locked out of heaven" is 146bpm, Lil Nas X "Industry baby" 150bpm, Beyonce's "Naughty girl" 199bpm. Fast tempo as a determinant of commercial musical success is not even an argument made anymore (Adele laughing somewhere on her couch and Omah lay may understand).
TEMPO RUNS
Now to the issue of whether Nigerian hit songs are getting slower or faster? First and foremost, Nigerian songs in generally are not as fast as many of us may like to think they are. The hit songs are not far off a quick (but not very fast) tempo. On the tempo scale Nigerian hit songs are more of 'moderato' than 'allegro' , talkless of 'presto'.
For example, between 2018-2020 the fastest paced hit on record was 'Jerusalema' with 125bpm. In fact, 2021 which by certain measures could be considered a 'fast' year just has a handful of hits 120 and above; "Onyx" by kola boy, "Levels" by Flavour 172bpm, "Egedege" by larry gaaga 170bpm, "Cho cho" by Zlatan 147bpm, "KPK" by Rexxie and Mohbad 123bpm, "Coming" by Naira Marley & Busiswa 121, "Verified" by Laycon 120bpm, "Cash App" by Bella Shmurda and "Baba Fela" by Mr Real both 120bpm.
This is a pattern that has held true from previous years, with a handful of songs serving as outliers going past the 120bpm tempo. Now its understandable that one listens to 'Booty Call' by Mo'hits All Stars and 'Oliver Twist' by D'banj then go on to hear Omah Lay's "Bad Influence" and Wizkid's "Essence" and come to an arm-chair conclusion that the tempo for hit songs seemed to be slowing down as the time progressed. This would deny an individual from appreciating some other anecdotal fact that may cause some dissonance to the already flawed conclusion reached like for example that - "African queen" existed in a world before "Tesumole".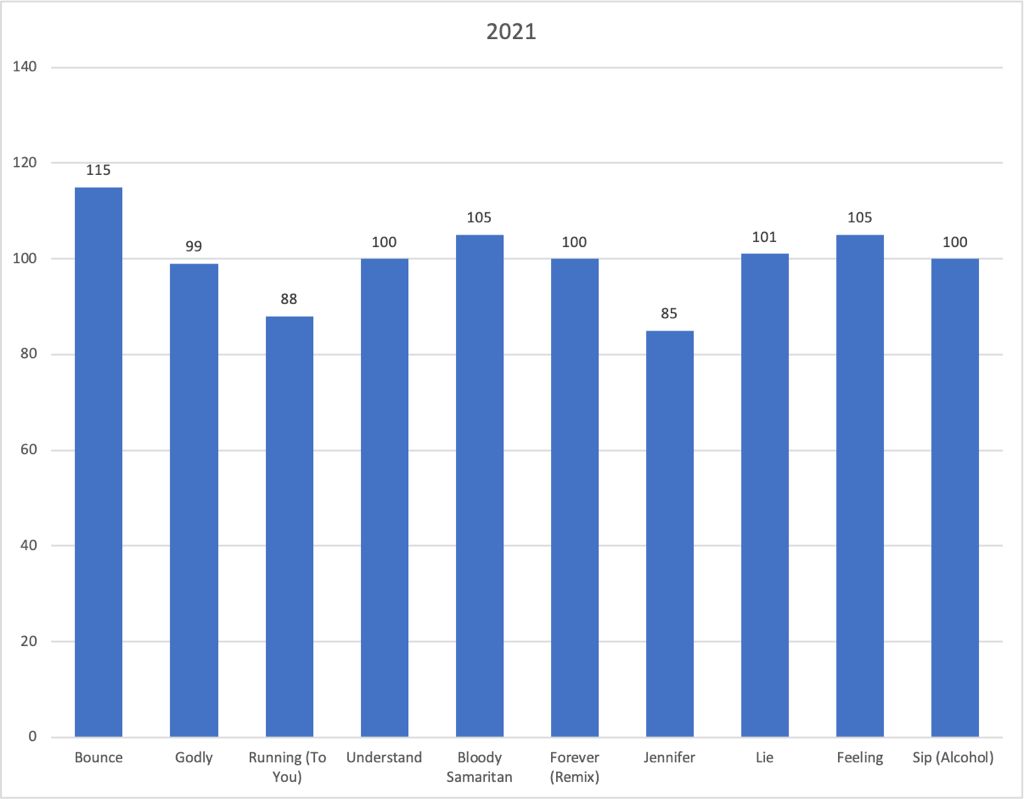 Deadbeat Sounds and The Over-Flogging of Dead Horses
If the tempo for all the whole hit Nigerian songs of the past 20yrs were to be analyzed and 'graded on a curve' it will look much more like a Gaussian curve with a bulk of the tempo 90- 120bpm placed around the centre and outliers <90 and >120 on each side of the curve, and on…and on. A scatter dot graph for the past 5years would show a 'plateau' level at the 120bpm with a bulk of hits falling below this line and very few songs making it above this line. This with little to no noticeable change or appreciable variation which could point to any discernible pattern across these years.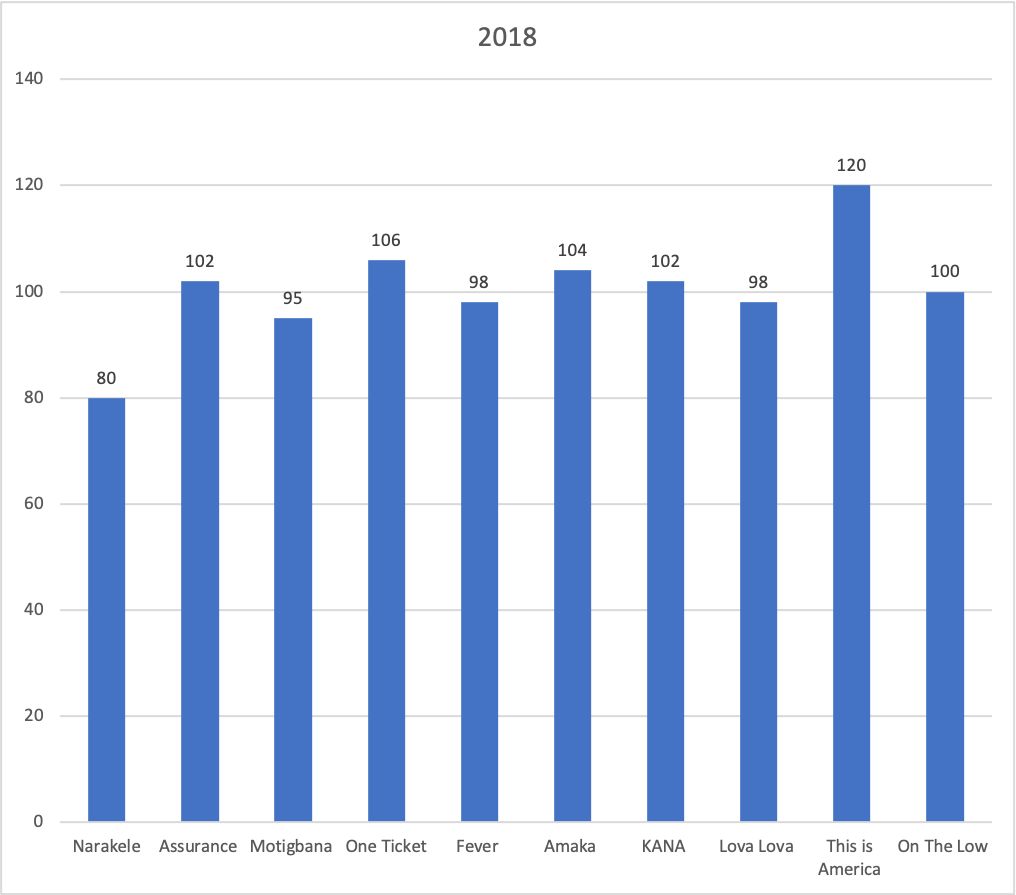 Take into account the fact that 2019 began as a relatively 'slow' year (compared to the previous year) with the average tempo of chart hitting songs in the first three months ranging between 96-106bpm.
There was a sudden uptick on average in the last weeks of the first quarter and this held steady with patterned fluctuations and then a sudden tapering in the months preceding summer. From summer till the tail end of the year the average tempo held relatively steady as in the bulk of second quarter with similar patterned variations.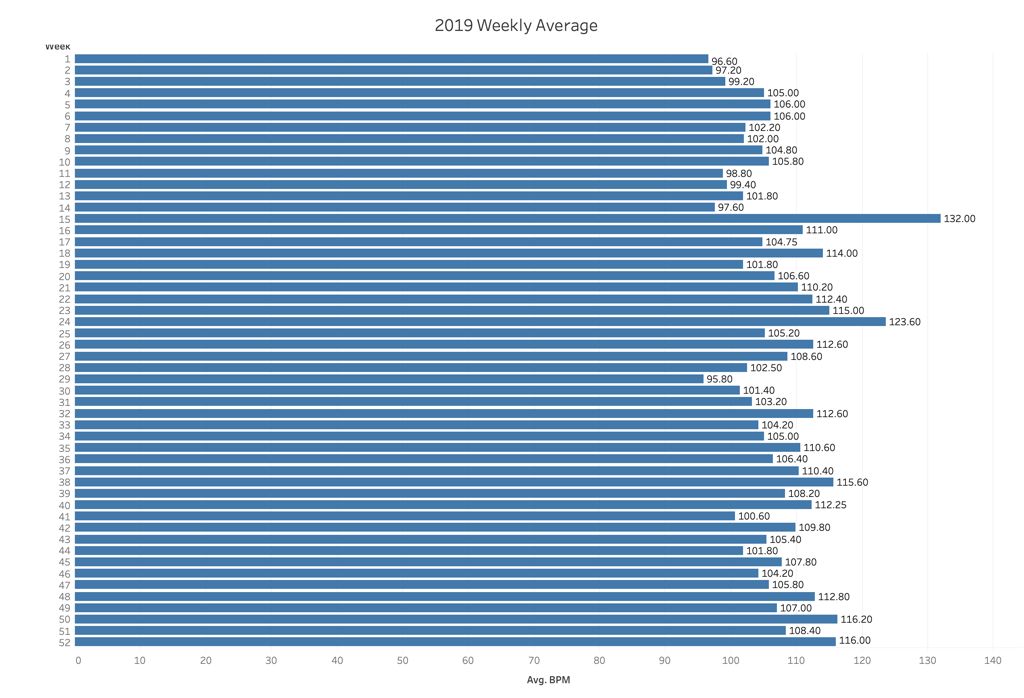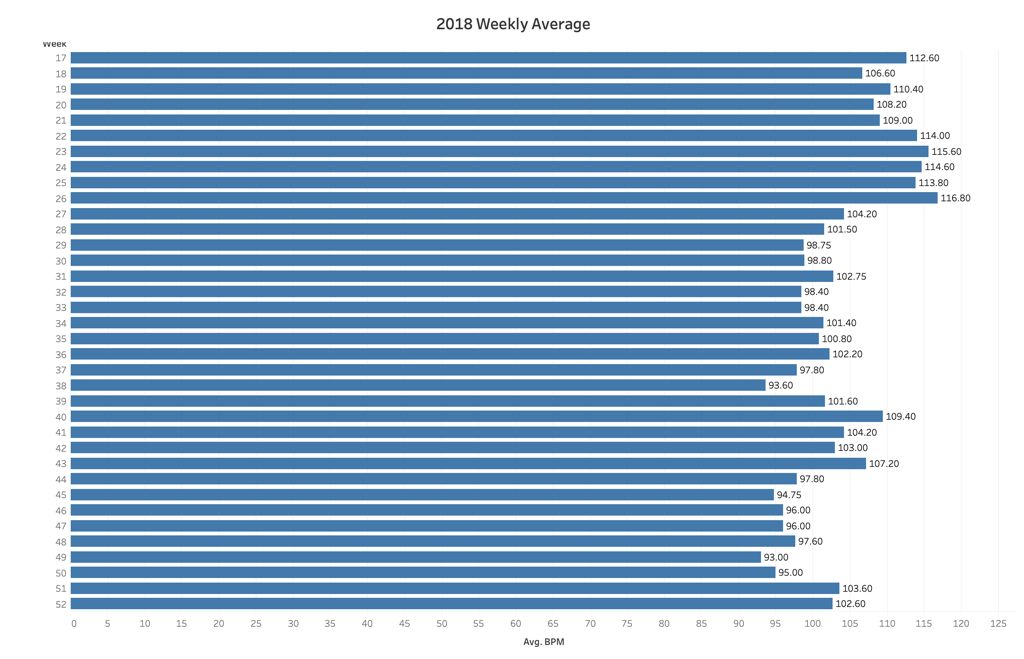 2020 had 2 notable weeks that marked the nadir in our tempo tracking for the past 5yrs, recording 92.4 and 87.4. Apart from this, most of tracking weeks remained steady, holding out for the most part around 100-120bpm.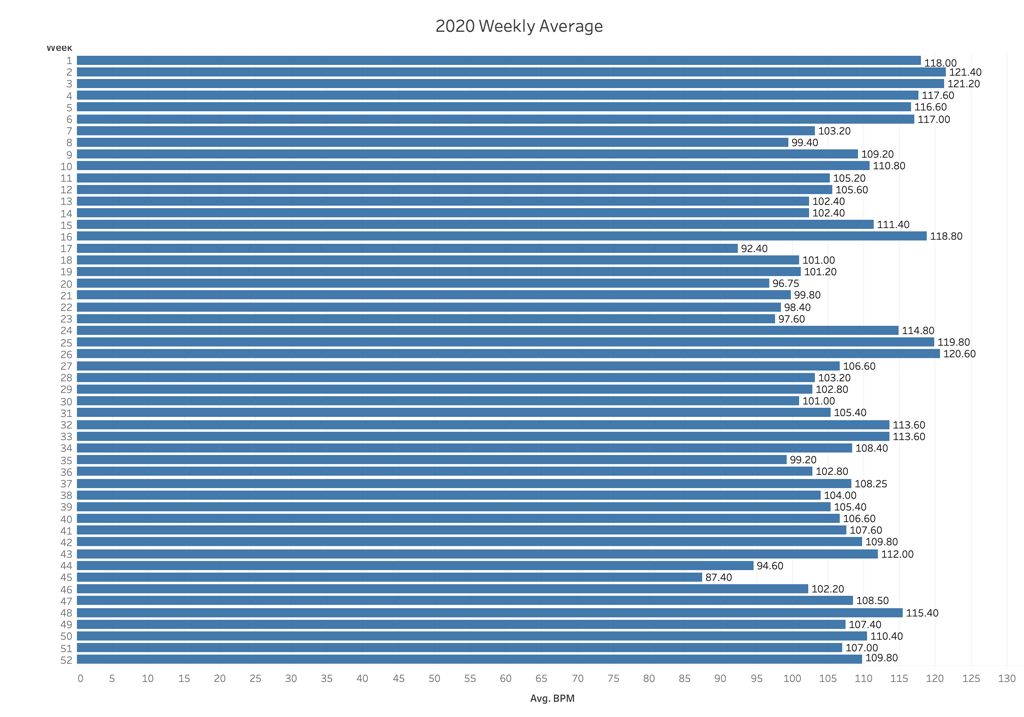 2021 has been a relatively fast year with 6 tracking weeks so far averaging above 120bpm the most of any of the years been tracked. Despite this, a bulk of the year still hovers around 100-120bpm. This prominent uptick is more noticeable from the wee end of the summer periods to the tail end of the year.
IN THE MUSIC
Between 2018 and 2019, Naira Marley's "Soapy" 123bpm ranked as one of the fastest tempo hit song consumed by Nigerians in both years, Chinko Ekun's "Able God" clocked in at 125bpm. We do know that the genre of music prevalent in these parts may not necessarily accommodate a much more quicker pacing without losing its musical lustre.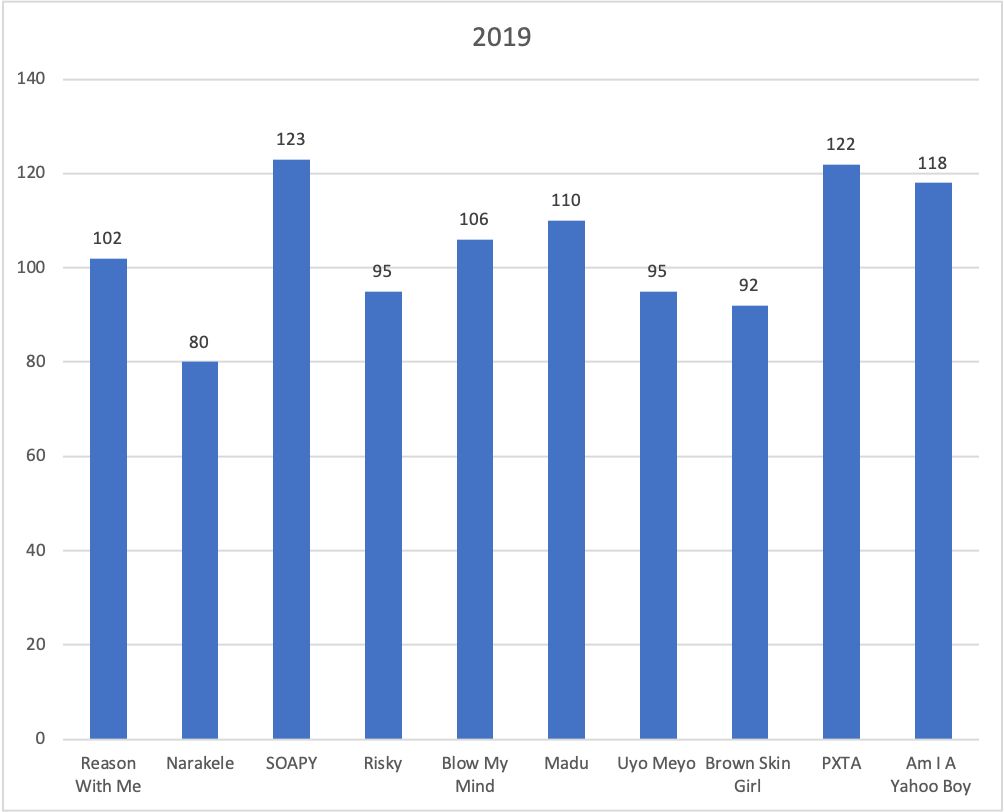 Afrofusion-Amanpiano-High life in the way this trifecta is currently constituted and incorporated into the Nigerian 'body of music' permits the carefree and seamless pace it appears to stride with. All the para-related sounds that draw on this various forms in one way or the other utilize this similar tempo range to salutory effect.
Myths vs Reality
Music finds different means for its expression, some of this differences in expression is borne out of differences in lived experiences and different perceptions of shared experiences, the uniqueness of individual perspectives and the vehicle through which music is expressed (genre, influences, stylistics and language peculiarities). Tempo is not as important a determinant of commercial success of a song as it was once thought to be. Existence of data has consistently shown this and why it appears ever more difficult to find patterns of tempo change involving hit songs through the years.
A hit song while not entirely independent of the tempo,(As club songs which tend to have high replay value and contribute to a good proportion of hits tend to be a little faster than the rest) draws its essence more from the melody, lyricism and ability to connect with the zeitgeist of the time and deliver something truly memorable for its era.
Tempo and tempo patterns do not appear to have played an outsized (as some of us imagined it did) role in how songs are composed and consumed. Hence, little, in the way of a true 'deliberate' pattern can be recognized from the data and analytical model presented.
What instead can be said is- with the preeminence of certain genre types, the pattern of tempo while intrinsically varied has held fairly constant as it would in any other place producing diverse forms of music from diverse sets of people, each with a unique take on the artform.