Editorial Review of Inestimable's Compilation album, Listen to the Music
Let's face it, Inestimable is one hell of a name. Any artist with such a name is convinced of their superlative ability to make music that will leave listeners captivated. When it comes to music, hearing is believing and that is what Inestimable a community of creative intends to do with this album tagged Listen To The Music.
This album is similar to a collage with each part distinct, special, and appealing yet perfectly in sync with other parts to make the collage a perfect piece of art. In this album, which features five artists: EOD, Fosa, Didi, Jordanstyls, and Neked you will enjoy the lovely melody, quality smooth rap, bold adlibs, decent production, and great collaborations that combine to create a rich and distinctive body of work.
"No Wasting Time" is the opener for this album. It's a single that encourages us to forget our worries and enjoy the moment. In a world of endless worry, Jordanstyl, Fosa & EOD want you to enjoy the music and believe things do get better. "No Wasting Time" has a catchy hook bordered by lovely verses calmly delivered over a piano mix and a bounce that hovers peacefully between alte sound and rap.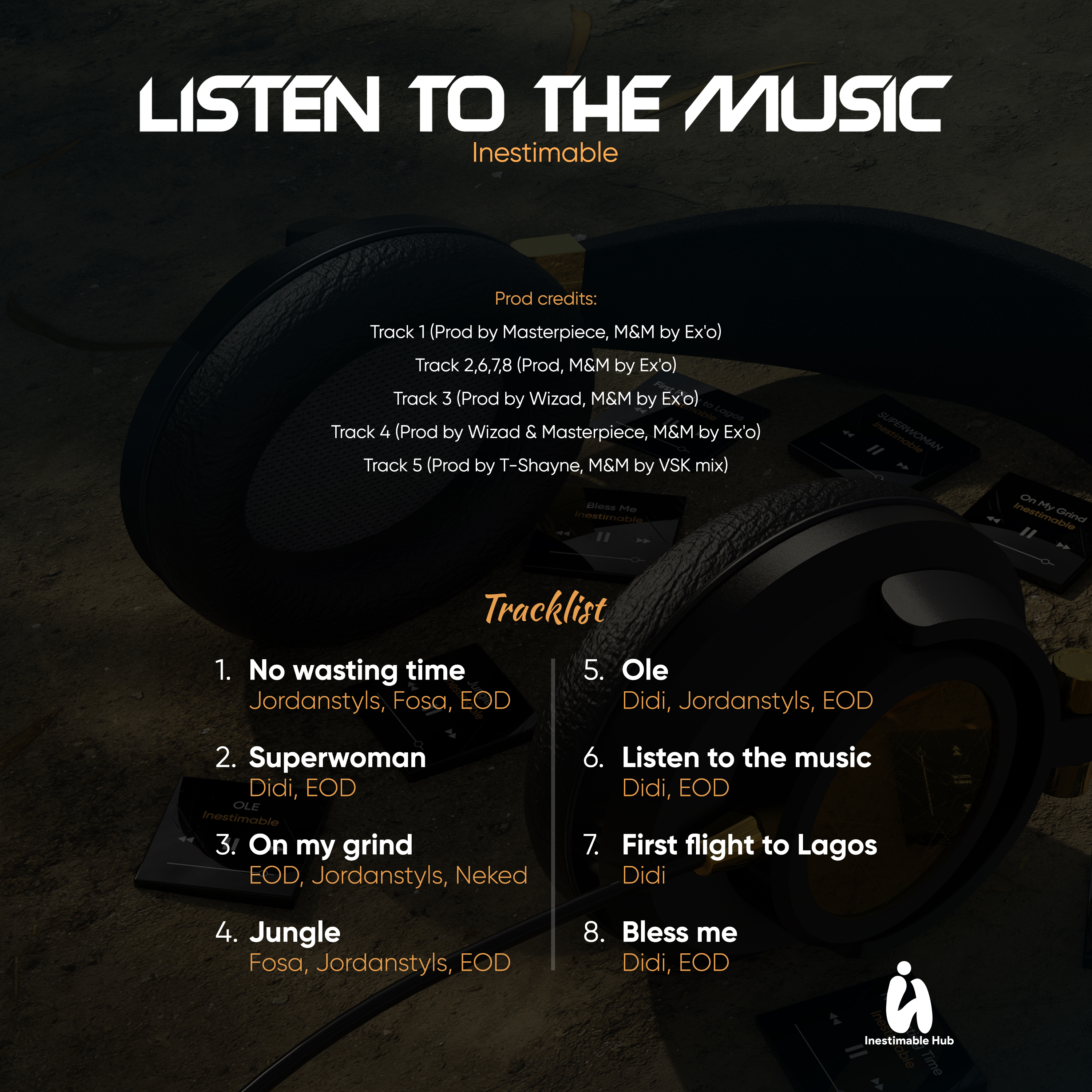 Inestimable display their romantic side on "Superwoman," an impressive love rhythm. This track is a perfect blend of melody and rap. Didi & EOD delivered impressively with quality verses, and the producers deserve credit for the beat which has all the necessary elements to propel the song, and also for a great verse arrangement.
Jordanstyls, Neked & EOD go hard on track 3, "On My Grind" which is an account of the different sides of the hustle to make it in the game. "On My Grind" captures the resilience to keep going in the face of challenges with the belief that the grind will someday soon pay off. With a heavy bounce, smooth flows, and a mean hook, this is an impressive track and a display of artistic versatility.
If three artistes went hard on "On My Grind," they went even harder on "Jungle" and so did Fosa. The first seconds of the track contain the voice of a Lagos conductor calling passengers into a bus headed for Yaba. This captures the fast pace and somewhat brutish state of life in Lagos, the jungle. Referring to Lagos as a jungle figuratively captures the difficulty of making it in the city and the level of corruption and lawlessness that pervades the City. The Daddy Showkey-inspired hook adds some nostalgia to this single and it perfectly complements the quality of the verses.
"Ole," is Jordanstyl's, Didi's & EOD's version of the ever-reoccurring story of going all out in an attempt to win over a temptress only to later realize that all she ever wanted was money. This single is bold sound experimentation that delivers a lovely modern-day Fela-esque sound.
On Listen To The Music, Didi & EOD display their range by delivering a lovely dancehall tune in which they prescribe the music of Inestimable as the solution to all problems. They encourage us to listen to their music and be happy irrespective of the situation. Listen To The Music is a rich display of artistry and happy music to lighten up the mood.
With "First Flight To Lagos," Didi tells the story of the struggle to make it in a new City. Just like many artists, he made the move to Lagos intending to make it in the game, and in this single, he recounts his experience as he embarks on his journey to fame. This single embodies a lovely melody, a confident delivery, and a wonderful hook that makes for absolutely smashing music.
Just as the album reaches a satisfying end, EOD & Didi hook listeners to the last single "Bless Me." If you contend that the best was saved for last, there can be little objection. "Bless Me" is a heartfelt appeal to the most high to shower his blessings on the artists and it is a beautiful single that will inspire a Yes and Amen from the listeners.
Listen To The Music is a well-curated body of work that allows each artist to flourish and display their talents in a manner that achieves artistic originality, individuality, and acoustic harmony. Credit must be given to the producers who worked on this album for a job well done: Wizad, Masterpiece, Beatboi, and Ex'o. Likewise, the album A&Rs can take a bow for doing a fantastic job. And for every music lover who has listened to the music and enjoyed the music, kindly do these talents a favor by telling someone to tell someone to Listen To The Music.
Listen to the EP here